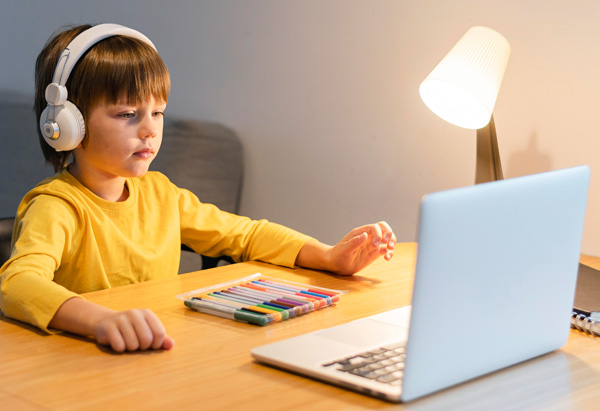 HOW COVID HAS TRANSFORMED OUR EDUCATIONAL EXPERIENCE AND WHY ONLINE CLASSES ARE HERE TO STAY?
By
Admin
On
29 Jun 2021
The Covid-19 pandemic has wreaked havoc on nearly every facet of our life. From the beginning of the epidemic, the world of education saw a shift, with educational institutions around the world closing and online classes growing faster.
This chain of events, which began in 2020, has resulted in an unexpected and widespread embrace of alternate teaching practices.
Technology had been democratising education even before the pandemic. Virtual classrooms have now taken the place of face-to-face interactions in the classroom. Let's look at how Covid-19 has changed the way we learn and why this shift isn't going away.
The new standard for education is digital learning.
While online learning is not a new concept, Covid-19 acted as a catalyst for its expansion, resulting in broad adoption by schools and institutions all over the world. The rapid migration of classrooms to the digital medium has adapted both students and teachers.
1. Online classes are now the norm, not the exception.
This transformation has occurred across the board, not just in K-12 education. Many students preparing for competitive exams have made the switch to digital learning. For UPSC, NEET, SSC, and JEE preparation, they are turning to online platforms like Unacademy.
2. Educators' roles are being altered.
As more students rely on online programmes, the role of educators is changing as well. The days of teachers passively delivering lectures to transfer knowledge are long gone. Today's educators must act as mentors to help their students develop holistically, especially in difficult times like these.
They can also use strong virtual technologies to make learning more engaging and enjoyable. They can pique the interest of young learners with engaging quizzes, stylized animations, after-class discussions, and other methods.
3. Increased learning flexibility
While learning in a classroom requires students to focus for a set amount of time, online classes and modules provide a great deal of freedom. Unacademy, an online learning platform, allows students to learn at their own pace while also keeping track of their progress. In contrast to a classroom encounter that cannot be recorded, a student can watch a video several times.
4. The path to take
Although physical interaction has long been a part of learning and teaching, online learning platforms have revolutionised the way we learn. Online learning platforms are here to stay, thanks to the ease and benefits they provide to both students and teachers. New guidelines about social separation will ensure that online lessons continue as schools and universities progressively reopen. From here, blended learning appears to be the way to go.
5. Online learning comes at a minimal cost
Students have become more alert and attentive as a result of the online platform, as a paradigm was originally shattered and behaviours in class did not necessarily transfer to this new setting.
Courses could be interactive and didn't have to be one-way, as many people assumed. Instead, faculty could use various tools such as screen-sharing, chat and whiteboards to engage and entice students to converse among themselves and with the faculty in order to produce a more effective learning experience.