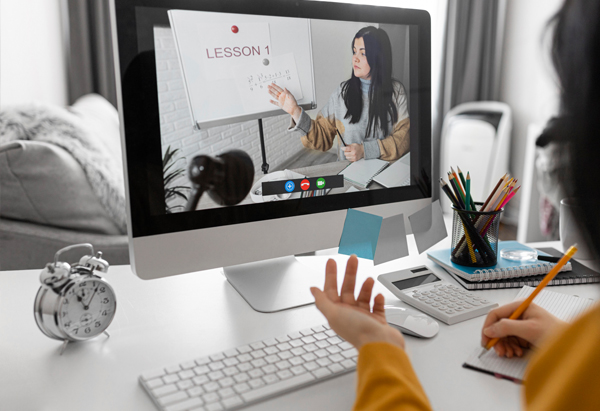 Online learning: The much-awaited reform in Indian education system
By
Admin
On
29 Jun 2021
Everything from the way we purchase meals to the way we book taxis to the way we learn has been transformed by the Internet. This is true across all industries, including our education. Teachers have been using technology into their classrooms to make learning more engaging for students, while students have been primarily using the internet to conduct in-depth research on topics of interest.
Online learning provides students with a good bandwidth and is a great way to learn. Similar to classroom education, though, it takes self-discipline, time-management, determination, and strong drive. The goal is to make the most of online education to its full potential.
1. Give online classes a high priority.
Because this is a unique method of learning, there is a possibility that the students will not take it seriously, even though they will be monitored by their teachers. It should become a habit for students to attend their online classes with the utmost earnestness. There may be considerable difficulty in grasping a notion all at once. But don't be concerned about it.
2. Bridging the gap for teachers
According to a survey by the Ministry for Human Resources and Development, the majority of institutions have fewer instructors than the amount required, which means that they cannot focus on every student in classrooms. This had resulted in the students being unable to make appropriate use of their time in the classes. But fresh breakthroughs are currently occurring with advancing technology. The education of information at the touch of a button has made the educational process more exciting and informative.
Students get access to not only high-quality education but also to seasoned professionals and academics through the use of online learning. They make learning enjoyable by incorporating puzzles and quizzes into the curriculum to keep the children's attention.
3. Online learning costs are relatively inexpensive
The entire education process has become more economical as a result of online learning. How? When you add up the overall cost of attending a college or university for higher education, you'll see that it's less than the one-time expense of online learning. Not only must the student pay for his or her education, but he or she must also pay for housing and transportation. Quality education is expensive, but with the development of e-learning materials, students can now get it for a fraction of the price.
In traditional classroom learning, students need to spend money not just on education but also on accommodation and travel. Students can now obtain a high-quality education at a significantly cheaper cost because to the development of e-learning resources.
4. Not to mention traditional classroom teaching.
We are grateful that the coronavirus pandemic has resulted in significant transformation in the education system, which is currently grappling with difficulties such as skill gaps, unemployment, obsolete curricula, a lack of hands-on practical experience, and a shortage of qualified educators. However, classroom education offers its own set of advantages. We can't rule out the possibility of traditional classroom education. In these difficult times, online education will undoubtedly help to close the gap in the education ecosystem while also providing the necessary opportunity for progress.